Look like a Michelin rated chef when you make this in just a few minutes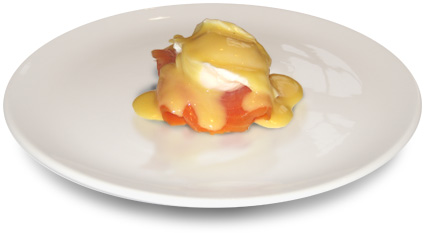 | Ingredients | |
| --- | --- |
| Eggs | 7 |
| Butter | 175g |
| Salmon slices | 4 |
| White wine vinegar | |
| Lemon Juice | |
| Pinch of salt | |
| Ground pepper | |
| Olive oil | |




An unbelievably fantastic, but extremely simple snack treat, suitable for breakfast, lunch, or a late supper. You donít have to use salmon for the base; fried bacon or even cold ham will do, but salmon makes it a real occasion!


. . . Although no weighing scales are needed for this recipe, the weights and measures are given for your convenience.

This recipe should serve four adults or two adults who are not worried about their hearts.






How to make it
Fill a large saucepan about third full with water add a dash of vinegar and turn on the heat. Put a large knob of butter (about 40mm x 40mm x 80mm; in picture the knob of butter is shown to scale with dinner knife) in a small pan and heat gently. Get out the plates and concertina fold a salmon slice neatly in the middle of each plate, big enough for a poached egg to sit on.
. . . Put a generous tablespoon (thatís a serving spoon, which is twice as big as a dessert spoon) of lemon juice and two tablespoons of white wine vinegar, into a small saucepan and turn on the heat. Separate the yolks out from three of the eggs and put the yolks in a mixing bowl. To separate the yolks break the eggs and tip the yolk from one half of the shell to the other, while the white runs away into a jug (save the whites to make light scramble for another meal). By now the lemon juice / vinegar mix should be boiling. Pour the boiling lemon juice / vinegar mix into the bowl with the egg yolks, stirring gently with a hand whisk as you pour it in.
. . . To make the poached eggs, simply crack the eggs carefully into the big pan of boiling water (at this point should now be boiling). Go back to the pan with butter in it, by now the butter should be melted and bubbling. Dribble the boiling butter in to the egg yolks slowly, while mixing. This thickens the egg yolks and partially cooks them. After 2mins poaching, carefully lift out the poached eggs drain off any water and lay the egg on the salmon as neatly as possible. Finally, pour hollandaise sauce over the egg, serve and enjoy.
---
The recipe instructions are so easy to follow, and they're quick to download.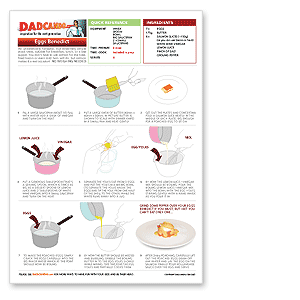 | | | | | |
| --- | --- | --- | --- | --- |
| | | OR | | |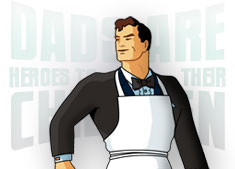 Cooking for guests


As a man, thereís something nice about cooking for appreciative guests. Perhaps itís because it gives you an excuse to show off; or maybe itís the chance of acting out a little theatre in the kitchen, or conceivably itís the fulfilling of that primordial hunter gather drive to provide sustenance.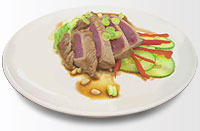 Whatever it is, cooking someone a meal can be such a great pleasure for both you and the person you are cooking it for. Even better if you are able to cook while your guest or guests are actually with you so that you can get them involved in the food preparation, it certainly breaks the ice and is a good way to get the conversation going. Thereís also something about moving into a new place and cooking your first few proper meals, it really does make a place feel more like home.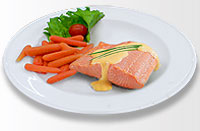 Even if youíve never cooked before, you'll quickly discover that there really is nothing to it. The recipe instructions are simply written and illustrated to provide guidance at a glance when youíre in the thick of it. I have carefully chosen a few easy to master recipes that are big on results, you know, the sort of food you might expect to get in an expensive restaurant or hotel, but youíre going to be able to make it in a few minutes.
Try Eggs Benedict one night when itís late and your guest fancies a snack, or perhaps for one of those late morning posh breakfasts with coffee and juice. Itís a very simple meal to make, but so rich and glorious, it will always cause a stir and stick in the memory for a long while. But then, why not try the Seared Tuna Ahi. Personally I never really liked fish, but then one day I tried seared Tuna Ahi steak and I was converted. Itís the most simple meal and to those watching you make it, appears as if you have conjured up a little slice of culinary heaven from thin air in about 10 minutes (this is a great meal to whip up on the barbeque just as easily).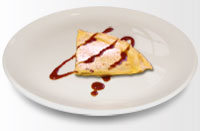 And if you have a good recipe of your own, why not send it in to us so that you can share it with all those other dads wanting to cook for grown ups.