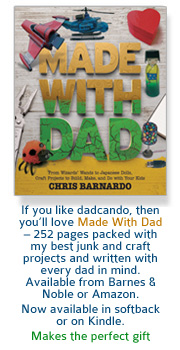 Lots of scrummy meals for you and your kids to make and enjoy!






Cautionary Tales For Children
Wonderful witty poems great for reading to your children. The stories and rhymes will stay with them for the rest of their lives.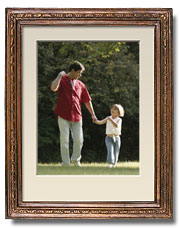 Research has shown how important YOU are to your children and how as a dad the things you do, and keep on doing, really count,

whether you live with them, or you are a single dad and are only able see them once a month, once a week or more, what you do really matters. This site is dedicated to all dads but will be of special relevance to the single dad. Remember, you are half the reason your children exist and they need you whether you live with them or not. As their dad, you have what it takes to make their lives successful and fulfilling no matter how often you see them. This site is about all the positive things that we as parents have to offer our children.
Perfect Yorkshire Puddings




151 79

Now you too can be King of the Yorkshire Puddings





| Ingredients | |
| --- | --- |
| Plain Flour | 75g |
| Eggs (Medium) | 2 |
| Milk | 75ml |
| Water | 50ml |
| Cooking oil | |



It's something that my dad always claimed to be (and still claims to be)... King of the Yorkshire Puddings.

Now, I know that I am bragging, but I feel certain that at last I have wrestled that crown from my father, and in my kids eyes I am the undisputed King - Champion of that wonderful roast dinner accessory, the Yorkshire Pud. Mine are light and fluffy and although they are a necessity with a beef roast, they are a fantastic compliment any roast meal. And you won't believe it, but they are so easy to make. You can make the batter beforehand and have it waiting in the fridge, and the puds can be cooked in 15 minutes, after the meat has cooked and is resting, wrapped in foil. The oven needs to be very hot to cook them properly and quickly, but then a very hot oven is just perfect for finishing off the roast potatoes.
. . . You don't have to stop at just serving the humble Yorkshire Pudding with a roast. Yorkshire Puddings also make a wonderful dessert. Make sure they're hot and drizzle some golden syrup or melted chocolate sauce inside them and then pour custard round the edge and a swirl of cream, if you want to be decadent, and hey presto! you have a superb and innovative style desert. They freeze well, so don't waste any of the overs, just pop them in a bag and in the freezer for the next roast, stew or pudding.
. . . Although no weighing scales are needed for this recipe, the weights and measures are given for your convenience, and if you have even a moderate memory, the old fashioned way of remembering the ingredients in ounces is easy to remember as 2-3-5, and that is 2 eggs, 3 ounces of flour and 5 ounces of milk mixed with water.

This recipe makes enough batter to comfortably fill 12 small tartlet wells in a standard fairy cake backing tray, perfect for making the most glorious Yorkshire Puddings.





How to make them
Drizzle with a tiny bit of oil in each of the wells of a 12 cup non-stick fairy cake tray (I use a silicone one, but any non-stick one will do) and put in a very hot oven (Mk 8, 425F, 240C).
. . . Fill a standard sized mug about half full with plain flour. Put the flour, two eggs ("two eggs" is the secret of making the yorkshires rise) and a pinch of salt in a mixing bowl and mix till you have a gloopy paste. Fill about one third of a standard sized mug with milk and then top up with water so the mug half full. Add the water-milk to the bowl, a bit at a time while mixing, making sure the mix stays smooth.
. . . Carefully take the tray out of the oven, the oil should be very hot by this stage, and pour the batter into the fairy cake wells so that it is evenly divided between the 12 wells (they should each be about two thirds to three quarters full). Put the tray back in the oven for about 15-20 minutes or until the batter has risen and is golden coloured, and there are now under cooked bits. Keep an eye on the batter, it should rise nicely and be golden brown, but not burnt.
. . . When the batter has risen, if the rest of the meal isn't quite ready, turn the oven down to a low heat while the rest of the vegetables cook, and then serve the puddings hot from the oven.



---



The recipe instructions are so easy to follow, and they're quick to download.






| | | | | |
| --- | --- | --- | --- | --- |
| | | OR | | 151 79 |




Cooking for guests

As a man, thereís something nice about cooking for appreciative guests. Perhaps itís because it gives you an excuse to show off; or maybe itís the chance of acting out a little theatre in the kitchen, or conceivably itís the fulfilling of that primordial hunter gather drive to provide sustenance.

Whatever it is, cooking someone a meal can be such a great pleasure for both you and the person you are cooking it for. Even better if you are able to cook while your guest or guests are actually with you so that you can get them involved in the food preparation, it certainly breaks the ice and is a good way to get the conversation going. Thereís also something about moving into a new place and cooking your first few proper meals, it really does make a place feel more like home.

Even if youíve never cooked before, you'll quickly discover that there really is nothing to it. The recipe instructions are simply written and illustrated to provide guidance at a glance when youíre in the thick of it. I have carefully chosen a few easy to master recipes that are big on results, you know, the sort of food you might expect to get in an expensive restaurant or hotel, but youíre going to be able to make it in a few minutes.

Try Eggs Benedict one night when itís late and your guest fancies a snack, or perhaps for one of those late morning posh breakfasts with coffee and juice. Itís a very simple meal to make, but so rich and glorious, it will always cause a stir and stick in the memory for a long while. But then, why not try the Seared Tuna Ahi. Personally I never really liked fish, but then one day I tried seared Tuna Ahi steak and I was converted. Itís the most simple meal and to those watching you make it, appears as if you have conjured up a little slice of culinary heaven from thin air in about 10 minutes (this is a great meal to whip up on the barbeque just as easily).

And if you have a good recipe of your own, why not send it in to us so that you can share it with all those other dads wanting to cook for grown ups.










© C.Barnardo 2007, 2008, 2009, 2010, 2011, 2012 dadcando ® is a registered trademark. Content and Design - Chris Barnardo Technical Development - Darren Tillett
http://www.dadcando.com/cl/cl-cheap.asp