Mind bending adventures in Topology with a simple-to-make Möbius Strip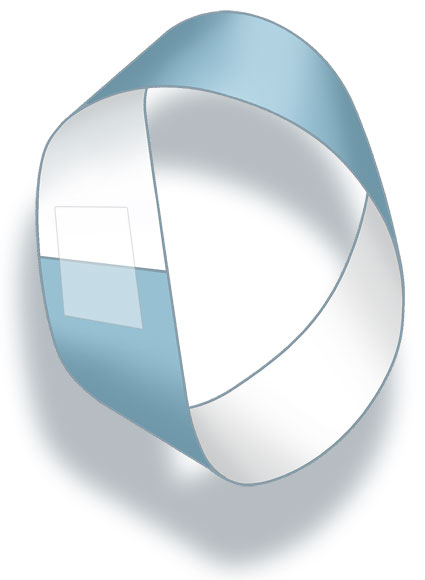 The Möbius Strip is a one sided, one edged loop named after an astronomer and mathematician called August Möbius who was born in 1790 and died in 1868, ten years after discovering this interesting concept. Making a Möbius strip is easy and a fascinating look at the world of topology (that's the science of the surface of a 3D shape), and is suitable for any age over about six or seven years old. My dad first showed me how to make a Möbius strip when I was that age and I have never forgotten it, or the profound impression the idea of a piece of paper only having one side, made on me. Nor am I alone, scientists, mathematicians, engineers and even artists have all been interested in this weird form. M C Escher, the artist famous for his visual conundrums, made a number of etchings based around the Möbius Strip, the most well know of which is a piece called, Möbius Strip II (Red Ants).
. . . There are some very interesting things to consider with a Möbius Strip and despite it's simplicity as a project it will get your kids thinking about how we describe forms and categorise shapes and surfaces and what that means in the world around us and a great way to learn the word topology.
. . . Kids love to categorise things, because it helps them make sense of the world they are learning about as they grow up. It is fascinating to them that different 3D shapes can be put into similar groups based on how many surfaces or edges they have. Kids can pick this sort of stuff up quicker than the average grown up because they haven't become entrenched in their thinking. Kids will quickly grasp the concept that topologically, surface for surface, a coffee cup (complete with handle) is just a deformed doughnut... think about it... a coffee cup is in fact a torus with a big dent in one side. This sort of thing makes for some interesting discussions.
. . . Whether you fancy talking about coffee cups and doughnuts or not, it won't take you long to get started on this project, and being able to cut two circular loops of paper along their length, so that they turn in to a square edged frame before your very eyes, is the nearest you're ever likely to get to being able to do magic.
. . . Talk to your kids about the experiment. I don't believe in dumbing down things for children too much. They are learning machines and hungry for any interesting bits of information. As long as you use words that they understand, you'll find that kids of any age readily grasp new concepts. Discuss the experiment with your kids as you are doing it. But make sure you listen to what they are saying, when they are relaxed and having fun the things they talk about are a good window on how they are thinking and feeling.
. . . Keep any discussion about the experiment brief and to the point in hand so that they don't lose interest. On the project sheet (and below) you'll find an experimental discussion outline. This is just a few key interesting facts about the experiment, designed to help you fire up your children's interest, and help you explain simply what's going on in the experiment if they ask.
---
When did M C Escher draw his famous Möbius Strip picture?
The artist M.C Escher lived in modern times he was born in 1898 and only died in 1972. He loved the idea of the Möbius Strip and used it as the basis for his drawing: Möbius Strip II (Red Ants) which he completed in 1963. In the picture the red ants keep walking round the strip but can never find the other side of it because it only has one side.
How is the Möbius Strip used practically in industry?
Conveyor belts use the concept to double their life as the belt gets worn over its whole area and not just one side, because of course the strip only has one side.
What is topology?
Topology is the branch of geometry that deals with the study of the surface of a 3D shape. In topology, shapes are grouped in to similar forms, which all have the same number of surfaces, and not necessarily by their actual shape. In topology a coffee mug can be described as a form of torus or doughnut, because although it looks completely different, the coffee mug and doughnut actually share the same type of surfaces, only in the mug one side of the doughnut has been dented in… think about it…
Where can I see a Möbius Strip?
Did you know that the world-wide symbol for recycling is in fact a Möbius Strip.
---
The dadcando Möbius Strip experiment project download is available in both Both A4 and US Letter size, just click on the one that you want, and will automatically download.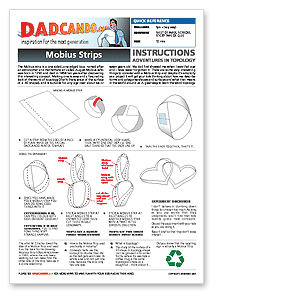 ---


If you enjoyed this project, just by clicking you can tell others via these websites:



StumbleUpon

Del.icio.us

Digg

Facebook

Reddit