Have you ever wondered why all the most famous chefs are men? Itís probably not because men are naturally great cooks, but rather because men are able to take risks, experiment and create fantastic things out of thin air. All of which is a important part of creating magic while cooking Even if you have never have cooked before, or only occasionally, you now owe it to yourself and your children to get making food in the kitchen rather than going out to the fast food restaurant and joining the end of the burger-bar-dads queue.




Time for some magic in the kitchen.
Cooking at home is cheaper and of course, much better for you and the kids than ready meals, and youíd be amazed how easy it is to knock up a wonderful meal in less time than it would take to go out, and still have enough to freeze for lunch on another day.
. . . We have put together some simple recipes with very easy to follow instructions and basic ingredients, designed specifically for you and your children to enjoy. For example, Baked Bean Con Carne, a favourite with my kids, is great because it has no bits or pips (because the recipe uses passata (sieved tomato) in place of the normal tinned variety) in fact it doesn't have any chili in it. Always make more than you need and freeze the extra in small bags or pots ready for you to heat up in the microwave another day; perfect for a jacket potato or tortilla wrap snack.
. . . If you roll your sleeves up and try it, youíll find that cooking is fantastic fun. Not only that, but both boys and girls love helping out with cooking and on dadcando.com youíll find some easy, quick result recipes perfect for you cook together with your children. If you try it out and like it, youíll find the web has thousands of cookery websites with recipes for very conceivable kind of food and meal, and you can even order the ingredients to be delivered to your door if you're pushed for time.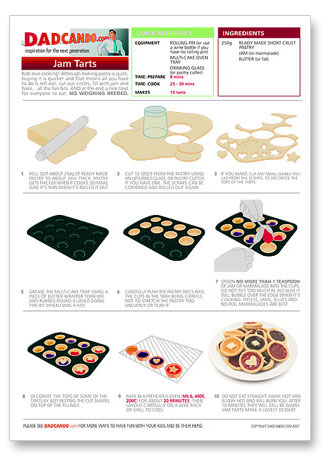 All our recipes have easy to follow, quick to download, pictorial instructions, so that you can do them with your kids.
. . . If youíre entertaining on a budget, then cooking a meal for your guests is a great way to make a real impression and without having to spend loads of money in an expensive restaurant. Our meal recipes are so easy that you can even cook them in front of your guests which is a good way to break the ice especially if you can get them involved in some of the preparation.